Health and Safety Gone Mad?
Dear Bemuddlement,
You have been observed at 11:13 hours on the 16.03.07 turning right at the
(Name Removed)
exit onto the dual carriageway. The exit is a left turn only as stipulated by the Highways Authority.
This action could cause a danger to others and breaches the guidelines which were issued via the Intranet on the (Date Removed) . All the road makings and signage used on the site comply with the Highway code and are in place for your safety and that of your colleagues. Failure to follow them can cause a serious accident.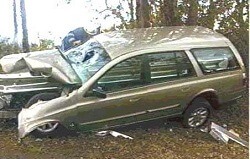 Health and safety is taken very seriously and as such please ensure that in future you adhere to both the signage and the road markings. Failing to follow the guidelines on another occasion will be brought to the attention of both your Business Director and HR Business Partner who may wish to talk to you directly about these breaches of Health and Safety.
These guidelines have been put in place for everyone's safety and are available on the Health and Safety website if you need to review them
Regards
(Name Removed)